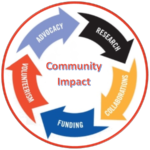 2019 Approved Organizations for Roane County United Way Funded Partners
Other Community Impact Programs
Roane County United Way supports local non-profit organizations in order to provide needed services to those who are truly in need.
RCUW led the formation of a dental task force involving representatives from various areas in Roane and Loudon County.
Collaboration among private dental practices, local organizations, educational institutions, and the faith based community have worked to provide affordable dental care to adults in Roane and Loudon Counties.
Organized a Dental Task Force to provide guidance, recommendation(s), and develop policies/procedures.
Created Dentist Advisory Board to provide professional guidance, develop cost structure, develop process, and provide invaluable feedback for sustainability.
Received a $15,000 Trinity Health Foundation Grant for Phase I of the project and $150,000 for Phase II.
Generated voucher system to pay dentists directly, no funding is given to clients.
Identified best practices for future use.
Leveraged proven processes used by grant administer.
Obtained participant feedback, which is invaluable for improving process.
Clients scheduled their own appointments.
Over 125 adults obtained affordable dental and/or preventive care services in Phase I.
A total value of dental services performed $45,000.00
A total of In-Kind contributions of $25,540.00
Leveraged an average of $5 dollars per every $1 Trinity Health Foundation dollars
We organize the annual Teacher's Supply Closet, helping teachers and their students with supplies needed throughout the school year.
Donations are taken all year long.
The event is in September.
 We host a Volunteer Income Tax Assistance (VITA) site-preparing tax returns to help individuals be financially stable....and more!
My Free Taxes
Since 2009, more than 1.1 million people have used MyFreeTaxes, bringing more than 1.4 billion in refunds back to our local communities. If your household earned less than 66,000 in 2017, you can file both your federal and state returns for free using MyFreeTaxes.com. This is the only free, national, online tax filing product offered by a nonprofit. United Way has made it available to over 100 million U.S. taxpayers as part of our fight for the financial stability of every person in every community. MyFreeTaxes is powered by H&R Block's premium software, so filing is easy, secure, and guaranteed to be 100% accurate. The software scans for any tax credit your're entitled to, making sure you get your maximum refund.
The Annual Day of Caring is a chance for the RCUW and Partner Agencies
to combine efforts and work on projects that help the community outside of daily services provided.
We involve the community as Volunteers to help with these projects.
We are looking for project ideas for the 2019 Day of Caring. Please click the button above and download the form.
Submit your project ideas to Corinne Shaw: cshaw@unitedwayroane.org
Emergency Food and Shelter Program
Funds are awarded to agencies for services. Funds are to supplement emergency food and shelter programs operating in the four-county area. Agencies will be able to provide food, shelter and rent/mortgage/utility assistance on a one-time basis to individuals.
The selection of the local board was made by a National Board that is chaired by the Federal Emergency Management Agency and consists of representatives from the following:
Salvation Army
American Red Cross
United Jewish Communities
Catholic Charities, USA
National Council of Churches of Christ in the USA
United Way of America
A local board comprised of local representatives of the national agencies and other agencies determine how funds are distributed.
Agencies receiving funds must meet the criteria:
Private non-profit agency with a voluntary board or unit of government
Have an accounting system
Practice non-discrimination
Demonstrated ability to deliver services.
Your Donations Help Save Lives